Keyword Discovery Review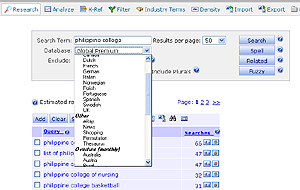 I recently reviewed Nichebot as a keyword research tool. This week, I'm taking a look at Keyword Discovery. I've never used Keyword Discovery before, except through Nichebot's interface, so I was really curious to see how everything works from Keyword Discovery itself.

The tool itself has several impressive features, giving users access to data including KEI analysis, spelling mistakes, seasonal search trends, keyword density, and industry keywords. You can also crawl for related terms, saving yourself a lot of time from researching each particular keyword. You can even choose where to extract the data, whether it's by country, or from specific sources such as News, eBay, Shopping, or the Thesaurus. You also have the option to access Overture data - but Overture hasn't updated since January 2007.
The Keyword Discovery interface is simple and straightforward - which is a good thing for first time users. The other pros of the Keyword Discovery service include:
around 1000 results for deep-digging each root keyword (and more if you get exhaustive keyword lists). This is great if you're looking for those long tail keywords that you may want to capitalize on.
The extensive FAQ and Help section, including the PDF manuals, make it easy for users to learn how to use the tool properly and how to apply the results to their website.
You get a variety of data from several different databases, and it's rumored to have the largest database around.
Unlike WordTracker, Keyword Discovery data is relatively accurate. Here's an excerpt from their site:
The Keyword discovery total is the TOTAL number of searches in the Keyword discovery database. That is, the total number of actual searches recorded on that term, NOT an estimate.
Now, for some cons:
Since Keyword Discovery searches for results over a 12-month period, the basic search isn't good for getting seasonal data. To get seasonal searches, you have to click on the "Trend" button for each keyphrase.
Data takes a while longer to load, at least compared to other tools I've used.
Overall, Keyword Discovery is a good tool. Although I wouldn't trade it for my Nichebot subscription, I'll probably be using the Keyword Discovery 9-in-1 tool in Nichebot more often. I'm impressed with the accuracy of the results. Keyword Discovery offers a free trial, so you might want to try it out first to see if it's the right keyword tool for you.
SmartPageRank - SmartPageRank.com